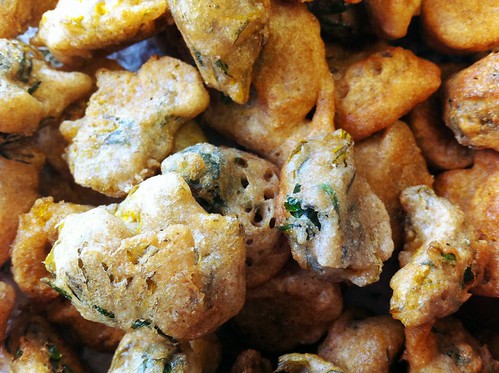 Tired of your weeds? Well try these recipes and eat your garden weeds!
RECIPES FOR EDIBLE WEEDS FOUND IN YOUR GARDEN
Over the summer, we wrote about edible garden weeds on our blog. Check out some of the tasty garden weed recipes below. We've compiled some delicious recipes for chickweed pesto, dandelion fritters, purslane tapenade, and violet jelly.
CHICKWEED is a good source of Vitamins A and C, flavonoids, calcium, iron, and potassium. These garden weeds make a lovely addition to salads, but my favorite way to eat them is by making a delicious, nutritious pesto. If you have chickweed growing in your garden, try this savory chickweed pesto recipe!
CHICKWEED PESTO RECIPE
Recipe adapted from Wild Greens Superfood Recipe
Ingredients
3 cups chickweed, loosely packed
1/2 cup walnuts, cashews, or pine nuts
2-3 cloves garlic, minced
1 Tbsp lemon juice
1/2 cup extra virgin olive oil
1/2 tsp salt
1/4 tsp freshly ground black pepper
1/4 cup freshly grated Parmesan cheese
Instructions
1. Place all ingredients into a food processor and process until smooth. (A blender can be used instead, but the chickweed should be finely chopped first)
2. If it's too thick, slowly drizzle in a bit more olive oil.
3. Eat over pasta, baguette, or veggies. Keep refrigerated. Eat or freeze within 3-4 days.
​
DANDELION flowers are highly nutritious; they're a very good source of vitamins A, B, C, E, and K, and minerals calcium, iron, potassium, and manganese. These "weeds" make delicious fritters that will please the whole family.
DANDELION FRITTERS RECIPE
Recipe adapted from Dandelion Fritters Recipe
Ingredients
4 cups of fresh dandelion flowers, washed
2 cups flour
2 eggs
2 cups milk
Instructions
1. Mix the milk, flour and eggs and beat until blended well.
2. Warm some olive oil in a skillet on the stove (keep at medium heat). Holding the underneath of the flowers, dip into the batter until totally covered in the fritter batter then place into skillet, flower side down.
3. Once they are brown, flip and brown the other side. If need be, continue flipping until the batter coating is light brown.
4. Remove from oil and allow excess oil to soak onto a towel or paper towel.
5. Eat plain or drizzle with maple syrup or honey. For a savory flavor, add your favorite herbs or spices to the fritter batter.
​
PURSLANE contains vitamins A, C, E; minerals calcium, magnesium, and potassium; and amino acids. However, these weeds' claim to fame are that they are extremely high in omega-3 fatty acids. Most of us do not typically get enough of these anti-inflammatory fatty acids, which support cognitive and mental health as well as cardiovascular, hormonal, and immune health. Omega-3s are commonly found in certain types of fish, flaxseed, and chia seeds, so if you're not eating enough of those foods, it's purslane to the rescue! Try making these succulent, lemony leaves into a delicious tapenade.
PURSLANE BLACK OLIVE TAPENADE
Recipe adapted from Purslane Black Olive Tapenade
Ingredients
1/2 cup pitted black olives
1/2 cup purslane, chopped
1 clove garlic, minced
2 anchovies, minced
Juice of one lemon
1 Tbsp. olive oil
Pinch of red pepper flakes
1. Chop up the olives, purslane, garlic, and anchovies until they reach a pleasing consistency – small and uniform, but not yet pasty.
2. Put ingredients from step one into a bowl and dress them with the lemon juice, olive oil, and red pepper flakes.
3. Taste the mixture and adjust the salt, olive oil, or lemon juice, if necessary.
4. Enjoy the tapenade over bread or as a dip. Makes a lovely appetizer!
​
VIOLET flowers may be harvested while in bloom and used for food or medicine.The leaves and flowers can be thrown into a salad; they boost nutrition as they boast very high levels of Vitamins A and C. The flowers can be turned into candy or jelly.
VIOLET JELLY RECIPE
Recipe adapted from Wild Violet Recipes: Foraged Edible Flowers Taste Great! – CanningCrafts
Ingredients
2 cups fresh violet flowers
2 tablespoons lemon juice
4 cups sugar
3 oz. liquid pectin
Instructions
Collect a mason jar pint full of violet flowers. Pour boiling water into the jar of flowers. Gently press the violets to release any air bubbles. Cover the jar and keep out of the sun for 24 hours. By the next day, the violet tea will be sapphire blue.
The next day, strain your violets through a colander lined with a coffee filter or paper towel, and squeeze the flowers to release all the juices. You will need 2 cups of liquid, so you may need to add a little more water to the violet tea.
Mix the tea and lemon juice in a large pot. At this point, you will see the dark blue tea turn purple. Bring the liquid to a boil and continue to boil for one minute. Add sugar and pectin, then bring to a hard boil one more minute. Turn the heat off and skim the top of the jelly if needed.
Pour into sterilized mason jars. Makes approximately 4 half pints of jelly. Let cool and store in the fridge.
Yield: approximately four half pint jars.
We hope you have a great time trying these recipes. Enjoyable food is a great way to eat your garden weeds!